Fisrt stage of the book and film projects to honor the memory of Vajradhara Kalu Rinpoche
Our film crew went on a journey to meet some of the great masters of Tibetan Buddhism living in India. Our mission was to gather photos, films, recollections, and testimonies – precious material for the projects initiated by the Shangpa Network to honor our root master Vajradhara Kalu Rinpoche. Meeting such exceptional masters left a deep imprint inside each one of us.
Jamgon Kenting Tai Situpa Rinpoche was the first one we met, at Sherab Ling in Himashal Pradesh, the western region of north India. He welcomed us with sincere pleasure and made us feel comfortable. The interview took place in a very large room filled with incredible tapestries and statues, sometimes in complete darkness due to several electrical failures, which made the atmosphere very moving and unique. « Our duty will never be totally accomplished » he said, humble.
In Gyuto monastery in Sidhbari near Dharamsala, we had the immense privilege to interview H.H. Karmapa. His presence emanated incredible power and tranquility. During the interview, he spoke in Tibetan but sometimes corrected his English translator, since his English is also very good! We drank his precious and inspiring words.
After going back to New Dehli, we went to West Bengal in the East, to the little town of Mirik, where Kyabje Bokar Rinpoche's monastery is located, and which is currently headed by Khempo Donyo Rinpoche. Kind and welcoming, he took the time to give us a tour of his monastery. His presence was filled with intense joy and energy. During the ritual of Chod, which he invited us to join, we witnessed Rinpoche's face becoming the face of emptiness – compassionate and transparent…
In Sonada near Darjeeling we came face to face with our root master Vajradhara Kalu Rinpoche, in the Stupa where His body remains. Golden face, golden smile…Tibet, India, the United States and France: in his boundless generosity, Vajradhara Kalu Rinpoche devoted himself to the transmission of the essence of the nature of mind, spreading it to the world.
The last stop was Lava, where we met eighteen years old Jamgon Kongtrul Rinpoche. He was very gentle but we could also feel his strength and maturity in the way he spoke and behaved. He was very curious and asked us to stay after the formal interview, desirous to chat, laugh and talk a bit about his childhood. We were touched in our hearts. He invited us to the Shedra debate sessions : monks, recitations, hands clasping and body movements like dances – energy!
We would like to thank all the Masters and their assistants for accepting the interviews, and for so kindly opening their doors to us, allowing us to photograph and film sacred temples, rituals and lively debates. These precious contributions have given us invaluable, quality material for the book and documentary film projects that will pay homage to our beloved master Vajradhara Kalu Rinpoche, enriching the collective memory of the lineage, and keeping the Rimay vision.
We would also like to thank all the people who made this trip possible and everyone who works daily for the development of the Dharma, for the good of all sentient beings.
We are currently working on the scenario of the film, in a hope to release and share with you the first part for the 32nd Kagyu Monlams.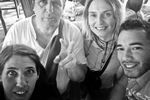 The team:
Oleksandra Yaromova – film director
Laurent Fontaine-Czaczkes – camera operator
Karine Barbier – photographer, art book conceptor
Lama Mingyur – trip organizer and facilitator, translator
All photos taken by Karine Barbier
Text inspired by Oleksandra Yaromova's and Karine Barbier's reports